Scholarship Creation - Part 3 / 3
In this article, we will cover the third part of the scholarship creation process.
---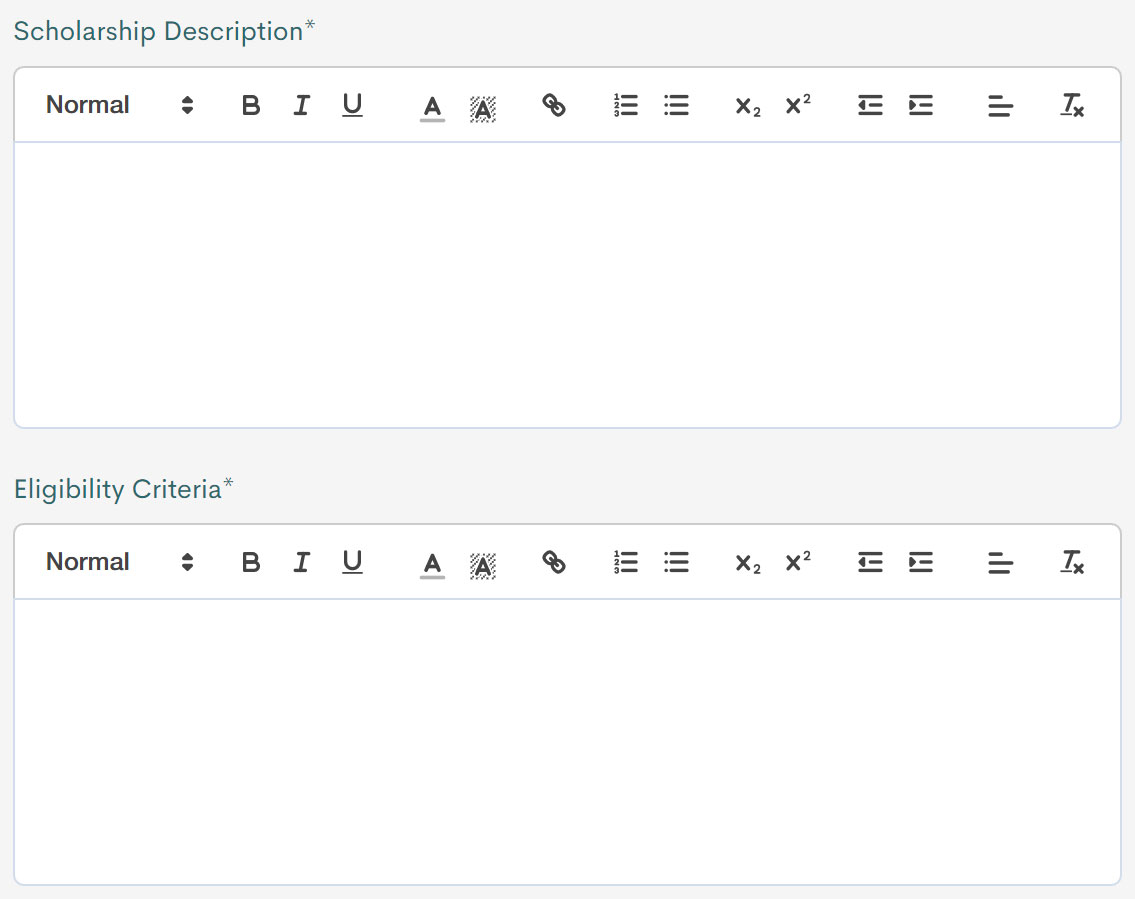 On this page, you can key in a description of your scholarship and the eligibility criteria. Formatting tools are provided for you and are labelled as below.

From left to right, text size, bold, italic, underline, text color, text highlight, hyperlink, numbered list, unordered list, subscript, superscript, reduce indent, add indent, paragraph alignment and remove formatting.
---
Here's a brief outline of the information you can provide for your scholarship listing on Scholarships2u.com.
Do note that this is just a recommendation of the possible content you can provide. The outline here lists possible information and questions that students or applicants will have.
Scholarship Description
Paragraph 1: brief description of your institution, country, and the popular programs.
Paragraph 2: description the scholarship offered, e.g. who you want to help through this scholarship, what you hope the recipient will be able to gain from this scholarship.
Paragraph 3: (optional) applicable programs and year of study.
Paragraph 4: terms and conditions of your scholarship. Here's an example:
Terms and Conditions
All applications received before the end of the closing date will be considered for scholarships.
Scholarships will be awarded on a first come, first served basis until available scholarship funds have been exhausted.
Scholarships will be awarded based on merit, at the sole discretion of the school.
Any or all scholarship values published is an indicative value of the award and does not indicate the actual awards.
Eligibility Criteria
Here is a good example of a scholarship eligibility criteria.
It is recommended that you include items 1 to 4. Items 5 to 18 can be amended
To qualify for the scholarship, applicants must meet the following criteria:
All applicants must register as students via Scholarship2u.com.
All applicants must make an application via the Scholarships2u.com portal in order to qualify for the scholarship.
Scholarship covers tuition fees only.
Terms and conditions may apply.
Applicants must submit a certified copy of their recent exam results upon request. (If your documents are in a language other than English, you must provide certified translations).
Open to students aged 17 and above.
Minimum qualification for PreU, A-Level or Foundation: IGCSE, SPM
Minimum qualification for Undergraduates: IGCSE, UEC, O-Level, STPM, or equivalent.
Minimum qualification for Postgraduates: Bachelor degree qualification or equivalent.
English Language Requirement: Grade A at iGCSE English Language or 6.5 in IELTS (Academic Module)
Original test score results of the ACT or SAT (optional maybe required for athletes).
Students will be subjected to an interview and required to sit the college entrance tests.
School Leaving Certificate
Letter of Recommendation from School
Other supporting documents e.g. resume, awards, portfolio etc.
A photocopy of valid passport photography page.
A completed international student financial aid application.
An essay written in English to include information describing who you are, your academic and extracurricular experiences and goals, and why you would like to study at this institution. (about 500words).
---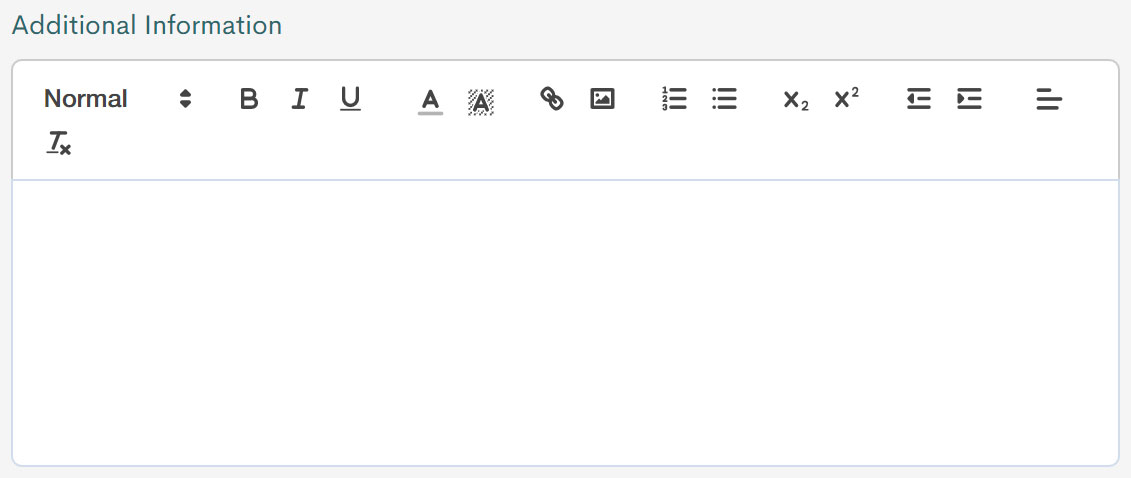 This is a section for any additional information you might want to add for the scholarship and has an additional feature to allow you to attach images. This feature can be found beside the hyperlink formatting tool.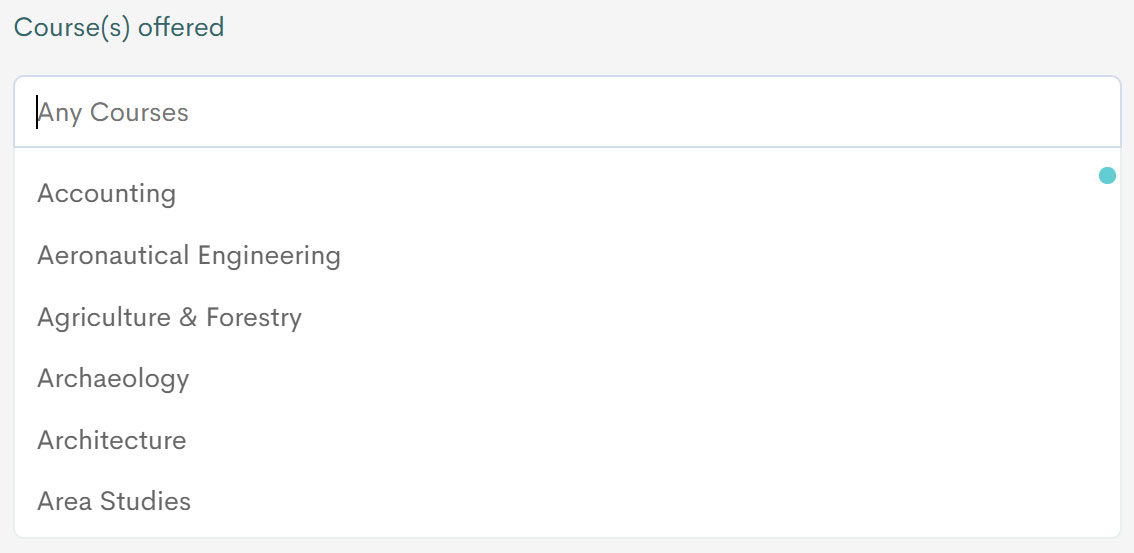 You can select the courses that the scholarship is applicable to by scrolling through the list or typing the course name in the input field.

Select the intake period for this scholarship if applicable. You can make multiple selections.

By default, your scholarship is made visible and searchable to all countries that are included here. You can choose to make your scholarship visible to only certain countries by including them or exclude certain countries from discovering your scholarship.
After all these details are provided, you are ready to post your scholarships. Just click next and it's done! If you leave the page before completing the scholarship details, it will be saved under drafts that you can access in the scholarships page.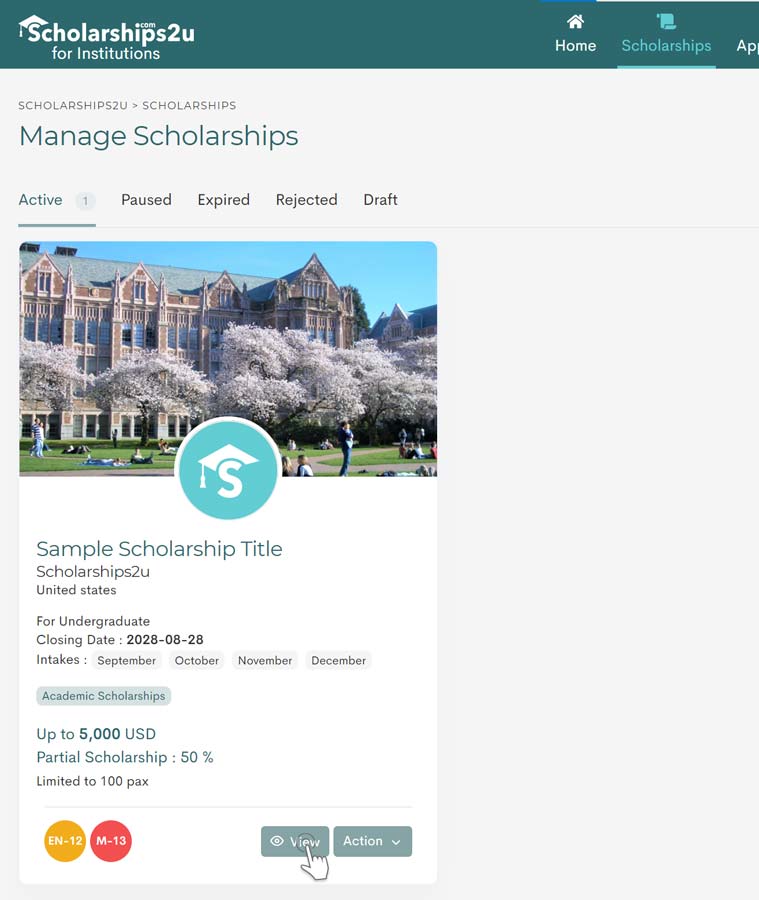 You can now view your scholarship by clicking on the "view" button on the scholarship card. You can also edit your scholarship, delete it or pause it by clicking on the 'action' button. Pausing your scholarship will remove it from the scholarship listing, but will not delete it from your account.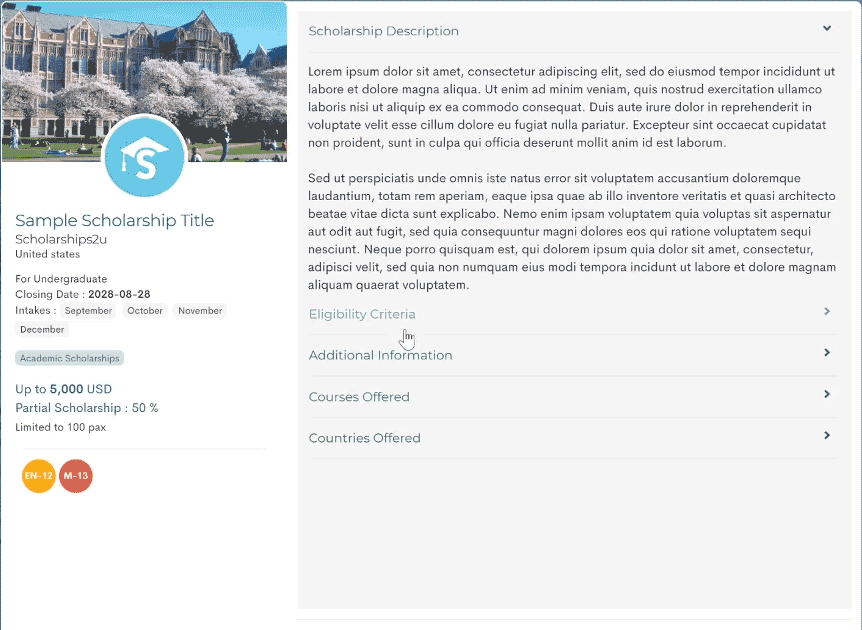 ---
Scholarship Creation - Part 2
Next Article - Scholarship Management